Kedy:
15. január 2021 – 17. január 2021
celý deň
2021-01-15T00:00:00+01:00
2021-01-18T00:00:00+01:00
We come into life with our first breath. We are alive because we breathe. The reality is that the way we breathe is one of the single-most important factors influencing our physical, mental, and energetic well-being… So why not try to breathe well?
Fabio Andrico "Breathe as you are"
January 15–17, 2021
Breathing course on and with the Chair
Course developed by Fabio Andrico
an international instructor of Yantra Yoga
Online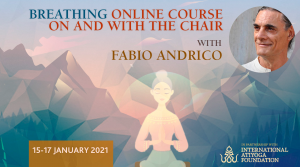 This course will help you to learn complete and harmonious breathing through simple exercises with and on a chair that are easy to apply for everyone. If you have problems with breathing, or work mainly at the desk having no possibility to do some usual warm-ups, or you find it difficult to do classical Yoga exercises, or you wish to study a new approach — this course is for you!
It will be useful for everyone interested in breathing, including sport coaches and instructors, and also to specialists in breathing and movement methods.
The course will be held in Zoom conference
We will send you the conference link and payment instructions after you register: https://forms.gle/h4UqofuC6ib2eKrr5
SCHEDULE (GMT+3):
Friday, January 15
20:00–22:00
Saturday and Sunday, January 16 and 17
10:30–12:30
16:00–18:00
MINIMUM SUGGESTED DONATION FOR THIS COURSE
Online participation: 20 euro for members of DC / 25 euro for non- members
Contact for payment – spb.dzogchen@gmail.com
Fabio Andrico is the originator of "Breathe", a unique method of harmonious breathing. He is a student of a famous Tibetan Teacher of Dzogchen, Chogyal Namkhai Norbu, and an international instructor of Yantra Yoga (Tibetan Yoga of Movement).
In the 1970s Fabio studied Yantra Yoga with Namkhai Norbu Rinpoche, who later authorized Fabio to teach this method. The key aspect of Yantra Yoga is complete breathing.
Fabio discovered, through years of teaching Yantra Yoga, that many people in Western culture face numerous difficulties while learning this method of breathing. That became an obstacle for studying Yantra Yoga and demonstrated how many tensions people struggled in their daily lives. We live the same way we breathe, after all.
So, Fabio developed a special method of learning complete harmonious breathing: Breathe https://www.harmoniousbreathing.com/
Now Fabio Andrico teaches complete harmonious breathing in many countries, and also gives courses for well-known Yoga associations and centers, like Kripalu, Esalen, Yoga Tree in the USA and Yoga Federation in Russia. He teaches Yantra Yoga on six continents. Fabio comprehensively described his method in his book 'Breathe as you are'.
Best wishes from Sangyeling
spb.dzogchen@gmail.com