Kedy:
28. január 2023 – 29. január 2023
celý deň
2023-01-28T00:00:00+01:00
2023-01-30T00:00:00+01:00
Dear Vajra family,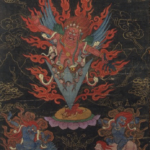 we are witnessing persisting conflicts, wars, calamities and other difficulties which befall our Earth and us, the inhabitants. That is why we decided to start doing (if possible) a monthly practice of 24 hour recitation and visualisation of Guru Tragphur in Wangdenling, Slovakia. You can participate in person – in Wangdenling, in your local Ling/Gar or wherever else, please do not forget to register into this schedule:
https://docs.google.com/spreadsheets/d/1o6OLZDMb0ljIGNdnu9VCt75nQz-X3g_0iaAcqWoS3CA/edit#gid=0
The practice will take place at a beforehand announced date in the following format:
The date of upcoming practice is 28th-29th of January 2023
Saturday (the time is in CET – Berlin/Prague time, for your local time please see: https://www.timeanddate.com/worldclock/full.html)
8:00 – 9:00 The beginnig of the practice as in ganapuja, with accumulation of Padmasambhava's mantra of long life for the longevity of the masters and the students.
9:00 – 9:00 (Sunday) The recitation of mantra of Guru Tragphur. If you want to join within these 24 hours, please start some time before your registered hour (see the link below) with 9 purification breathings, purification of the elements, going for refuge and developing bodhicitta, followed by transformation into Guru Tragphur in such manner that you would already be reciting mantra at least two minutes before your registered session. Please finish your mantra recitation at least two minutes after the end of your registered session. Please dedicate merit for the awakening of all sentient beings as well as for the peace and prosperity in the world.
Sunday
after 9:00 Continuation of the practice with ganapuja
Contact for more information: kunzangdorje@atlas.cz
With best wishes,
organizators