Kedy:
11. január 2021 – 15. január 2021
celý deň
2021-01-11T00:00:00+01:00
2021-01-16T00:00:00+01:00
Practice of Jnana Dakini Thugthig
January 11-15, 2020
with Steven Landsberg
Zoom and Live in Dzamling Gar Gönpa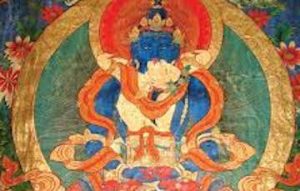 (depending on circumstances with covid)
This course will deal primarily with the explanation and practise of the Jnana Dakini Thugthig, or Essence of the Mind of the Jnana Dakini. She is inseparable from our very own state of instant presence, our own natural state beyond any concept. Leaving behind the barriers of acceptance and rejection, the path of the Jnana Dakini opens a space in which everything is recognized as a wisdom possibilty. Rather than abandoning samsara, we embrace it as the appearance of wisdom.
We will go through the various visualizations described in Chogyal Namkhai Norbu's Longsal text as well as learn the melodies associated with the practise. During each session we will devote considerable time to the application of visualization and recitation of mantra.
Furthermore, there will be discussion of some Santi Maha Sangha Base Level topics related to the view, meditation, and behaviour of Anu and Ati yoga and some time spent practising the seventh lojong.
Transmission (lung) from Chögyal Namkhai Norbu required of the entire text of Jnana Dakini or, at least, the mantras.
Spanish, Italian, Russian and Chinese translation available.
Schedule: 10:30am – 12:30pm (once a day)
including three practice sessions, January 12-14, 3:30 to 4:45pm
Cost: 10e /day 50e and 55e with recordings for all sessions for members, 15e per day /60e and 65e with recordings for all sessions for non members
No one will be turned away for lack of funds.
Registration link: https://forms.gle/fCmTBbav1MpHFqVz7
Donation link: https://www.dzamlinggar.net/component/jse_donation?view=donate&task=donate.donation&c_id=237
Your donation for the course is greatly appreciated,and here you can see our recent project in Dzamling Gar: https://www.dzamlinggar.net/on-going-project
You can make a donation at Infopoint or at the Gönpa for live attendance.
Steven Landsberg began studying Tibetan Buddhism in 1967 while he was living in India. He also spent two years studying Sanskrit and Tibetan and many years doing preliminary practices. In 1982, he attended his first retreat with Chogyal Namkhai Norbu Rinpoche and began practising under his guidance. After having studied and practised the Base Level of the Santi Maha Sangha he passed the exam in 1996 and since then continued to pursue his study and practice of SMS. In 2010 he participated in the Teachers Training and was authorized to teach. For the last eight years, he has been giving courses throughout Europe and the Americas on Santi Maha Sangha and mindful presence.