Kedy:
19. august 2020 – 23. august 2020
celý deň
2020-08-19T00:00:00+02:00
2020-08-24T00:00:00+02:00
Dear Vajra family,
we would like to extend a warm invitation to a practice and teaching retreat on various topics of Santi Maha Sangha 1st level with instructor Jakob Winkler, which will take place from the 19th to 23rd of August in Wangdenling.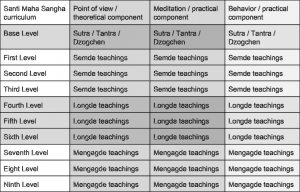 Jakob Winkler is a scholar, translator, editor, and teacher in the field of Tibetology and Buddhism. He has studied and practiced Buddhism since the mid-1980s under various masters. Our master, Chogyal Namkhai Norbu, gave Jakob authorization to teach in 2002 as a Santi Maha Sangha instructor. He has contributed fundamental research to the understanding of Lhasa's Lukhang temple and its dzogchen murals, being the first Western scholar to identify Pema Lingpa's treasure texts as the source for the murals.
In this retreat we will practice various methods related to dzogchen semde that enable one to find oneself in the state of contemplation.
Participation is limited to people who undertook SMS 1st level training under the guidance of Chogyal Namkhai Norbu.
Program:
Program will be decided with Jakob on the spot.
August the 19th
19:00 start
the 23rd of August:
12:30 end of the course.
Venue: Wangdenling, Španie, Nová Bošáca, GPS: 48°52'12.8″N 17°49'04.3″E
Amount of your financial contribution is up to you, the estimated expenses are 60 euro per person for the whole retreat. If you come for particular days, suggested donation is 15 euros per day. This sum does not include meals and contribution for ganapuja.
Meals: 3 euros for lunch only and 6,50 euro for all meals.
Registration – please register at the following link: https://forms.gle/zTXmgwPxcqKv4Qwm7
Registration will be closed on 12.8.2019 Please register before this date!
Karmayoga: We need especially someone who would cook. Please volunteer!
If you have any questions, please direct them to: blue@dzogchen.sk
We are looking forward to see you, gakyil of Wangdenling.